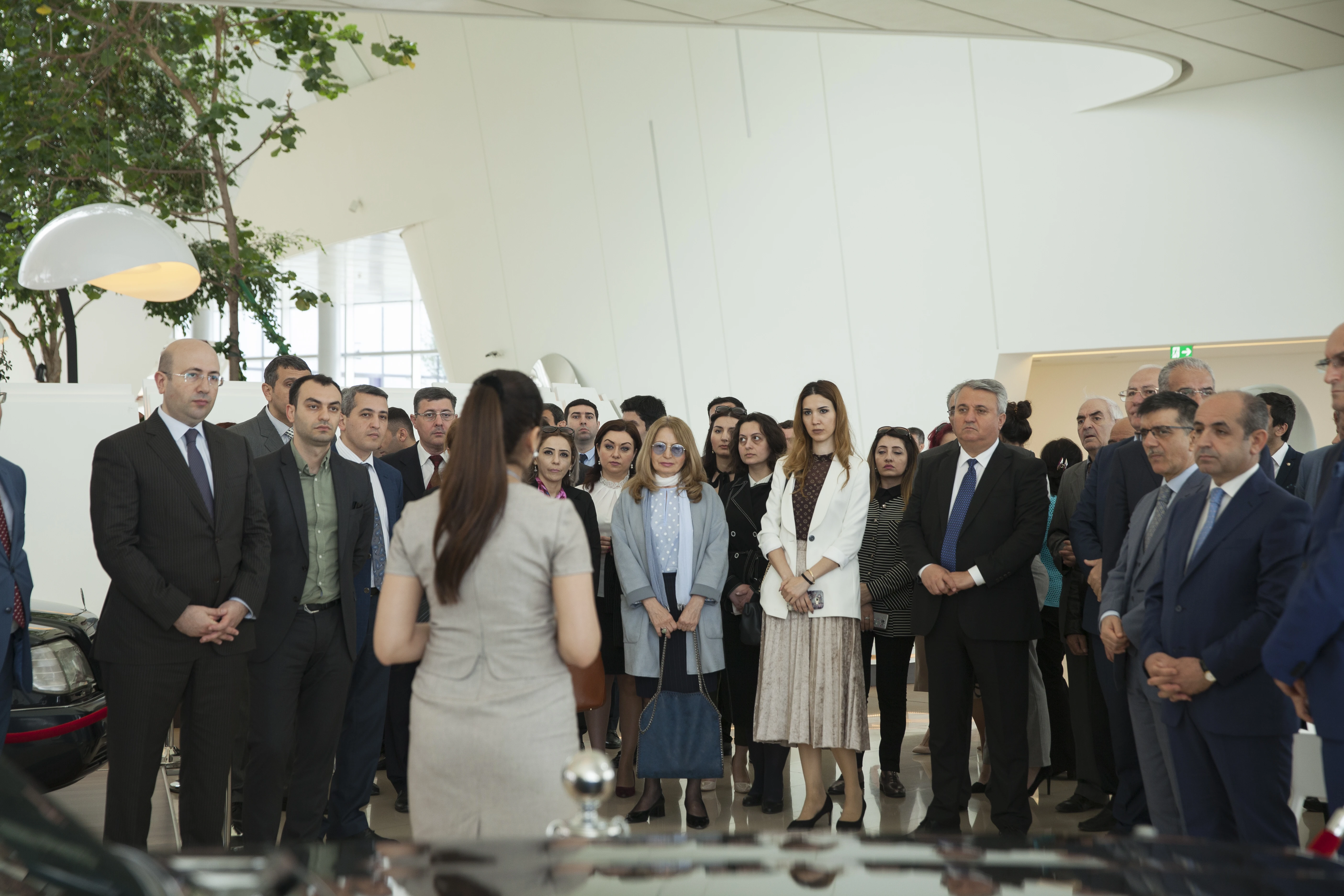 Employees of the State Committee on Urban Planning and Architecture Paid Tribute to the Memory of the Nationwide Leader Heydar Aliyev
As part of the commemoration of the 96th Anniversary of the Birth of the Nationwide leader, the staff members of the State Committee on Urban Planning and Architecture visited the Museum of Heydar Aliyev to familiarize themselves with the exhibition portraying the legacy Heydar Aliyev has left as a genius person. This initiative implemented with the support of Heydar Aliyev Center provided the Committee's staff members with an opportunity to be acquainted with the life and professional activity of the political figure of global level, the architect and builder of the modern independent Azerbaijani state, and pay tribute to the cherished memory of Heydar Aliyev. Today, at the Honorary Cemetery of Baku, the Committee's management and staff observed a minute of silence in honor of the Nationwide Leader Heydar Aliyev.
Having said these words"It is not the nation that should exist for the state but the state should exist for the nation," Heydar Aliyev dedicated his entire life to serving his nation and the state of Azerbaijan. In the early 1990s, Azerbaijan encountered scores of threats; and it was because of the strong political will of Heydar Aliyev that the country began to experience the radical changes. The great Leader defined our country's development strategy, thus creating the Azerbaijani model of development. As the person with firm convictions, strong will, decisive and invincible character, Heydar Aliyev is a great example for the youth.
Heydar Aliyev had taken pride in our country's rich culture and great history. He continuously worked for the country's progress and successfully led the state of Azerbaijan through the hard and difficult trials of time to, ultimately, hand our cherished motherland down to the future generations. The great Leader has permanently written in big letters the name of Azerbaijani state in the annals of world history. Today, every builder, designer, and architect enjoys the fact that he or she is living and working in a beautiful country designed by the Architect Heydar Aliyev.
The management and every employee of the State Committee on Urban Planning and Architecture will do their best to ensure the fulfillment of their duties. They will always support the high-level state activity of the President of the Republic of Azerbaijan Mr. Ilham Aliyev ensuring the worthwhile continuation of the Nationwide leader's policy aimed at the country's comprehensive and sustainable development, promotion of its international authority, and enhancement of the population's living standards. "Day after day, the independent Azerbaijani state will grow in strength and develop, and it will never lose its independence," said Heydar Aliyev who prominently and permanently lives in the memory of the nation.