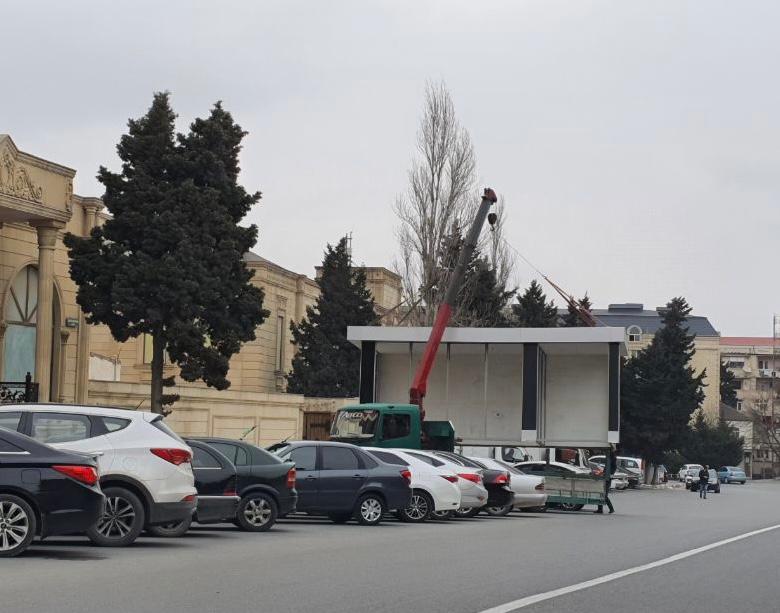 The State Committee for Urban Planning and Architecture prevented illegal construction in Khirdalan city
The anti-pedestrian structure has been removed from the sidewalk.

The State Committee for Architecture and Urban Development received a complaint from a group of citizens about the installation of a trade booth at a pedestrian crossing near the Heydar Aliyev Park in the city of Khirdalan.
The Committee's specialists immediately hold inspection on the ground and found that the kiosk creating obstacles for pedestrians was installed in violation of the law, without appropriate approval and licensing procedures.
The Committee sent an appeal to the Executive Power of the Absheron region, in accordance with the requirements of the "Rules for the implementation of state urban planning control" approved by the Decree of the President of the Republic of Azerbaijan No. 375 dated November 24, 2014, illegal construction and installation works were suspended, and the structure was removed from the sidewalk.
The State Committee for Urban Planning and Architecture stresses the particular importance of the public control over the urban planning process, thanks residents for the initiative to prevent illegal construction and fulfilling civic duty.
At the same time, the State Committee once again appeals to individuals and legal entities engaged in construction, urging them to comply with all the requirements of urban planning legislation. Carrying out construction work without a permit from the relevant executive authorities is prohibited, measures will be taken against violators.